May
11
Sat
Allegheny Cleanways trash cleanup
May 11 @ 10:00 am
Allegheny Cleanways trash cleanup, deetz to come.
May
31
Fri
Pittsburgh's Beerfest Weekend 2019

@ Frazer Fire Hall
May 31 @ 2:00 pm – Jun 2 @ 2:00 pm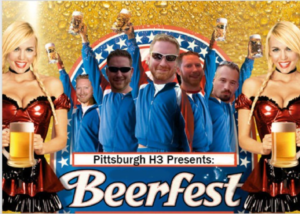 https://hashrego.com/events/analversary-weekend-2019
Grab your tightest Dirndl and brush up on your favorite drinking songs, because the Pittsburgh Hash House Harriers is having BEERFEST!
As the great Barry Badrinath once said "I'm better when I'm drunk."
Besides schnitzels and wieners, your weekend will be filled with all kinds of cool shiza!
Rego includes: Friday & Saturday trails, bottomless beer, 5 delicious meals (Friday dinner, Saturday breakfast/lunch/dinner, and Sunday breakfast), Friday Night Beer Exchange, BeerFest Olympics, Costume contest, Dancing, Skits, Haberdashery, Endless dress-up possibilities, as well as a very nice place to pitch your tent!
The campground is entirely private, a short drive outside of the city, and there are hotels nearby if you'd rather sleep indoors.
Registration Info:
Early Bird Special: $80 until 2/28
Regular Rate: $90 until 4/30
Late Rabbit Rate: $100 until May 30
Walk-up Rate: $120
BeerFest
Camping stuff, beer for the Craft Beer Exchange, wine for the wine share, your best/worst german themed attire