Follow the White Rabbit to Wonderland!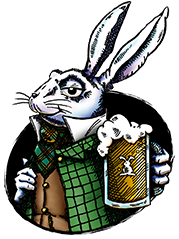 PGH-H3's 34th Analversary Campout, June 2-4, 2017
If the world has absolutely no sense who's stopping us from inventing one?
Come play with us in Wonderland! The Caterpillar asks "Who are YOU?" and in our Wonderland you get to choose! Are you the Mad Hatter? Tweedledum or Dee? The Queen of Hearts? The March Hare? The Cheshire Cat? Alice?
There is a place, like no place on earth. A land full of wonder, mystery, and danger. Some say, to survive it, you need to be as mad as a hatter. We're entirely bonkers, but I'll tell you a secret, ALL the best people are. Imagination is the only weapon in the war against reality.
In this war half-minds will create our own reality with some very twisted trails and Wonderland-inspired revelry. "Every adventure requires a first step," so won't you come join us?
Registration Info:
Early Hare Special: $80, opens 2/8 @ noon, ends 2/22
Regular Rate: $90 until 5/1 (rego by 5/1 to guarantee weekend habby)
Late Rabbit Rate: $100 after 5/1 (you'll get habby if we have extras)
Rego includes: Friday & Saturday trails, bottomless beer, 5 delicious meals (Friday dinner, Saturday breakfast/lunch/dinner, and Sunday breakfast), fun & games, Saturday night costume contest and party, unapologetic debauchery, a live Hasher band, haberdashery, endless dress-up possibilities, as well as a very nice place to pitch your tent! The campground is entirely private, a short drive outside of the city, and there are hotels nearby if you'd rather sleep indoors.
Bonus Feature: We're hosting a very special race-ist event as part of the "Triple Crown Weekend Series" with H5 and Charm City.
Click on the White Rabbit below to go to HashRego…
Or click here: https://hashrego.com/events/pgh-h3-campout-weekend-2017